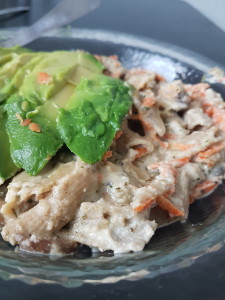 Dear Friends,
As promised, here is my special vegan Alfredo pasta recipe! It's super easy and so tasty! You won't miss the real deal cheese at all once you whip this baby up! The dish also stores well, and kinda seems to just get better as the days roll by. You can even use the sauce as a cheese dip with veggies or chips or bread.
Ingredients
Pasta (any kind, 1 standard pack)
Cashew nuts (1 cup, raw, soaked)
1 Leek or Onion
Garlic cloves (to taste, I like to use 5 cloves)
1 vegan broth cube
Mushrooms, asparagus, or other veggies to spruce up your pasta
Salt and pepper to taste
Method
1. Soak the cashews in hot water for about an hour.
2. Make pasta (of any kind) as you usually do. I like to use spirals or any kind that will hold on to as much of the delicious pasta sauce as possible! 🙂 Drain and set aside.
3. In the same pot, stir fry the leeks or onions. Put the leeks/onions in a blender or food processor, together with the garlic, cashews, half a glass of water, the veggie broth cube. I add a lot of garlic because I love it! Blend until smooth or chunky (whatever floats your boat!).
4. In the same pot (save dishes! less cleaning up!), add a little olive oil or coconut oil (or even a little water is fine). Stir fry veggies. I like to use mushrooms, carrots and peppers, but really, you can use anything.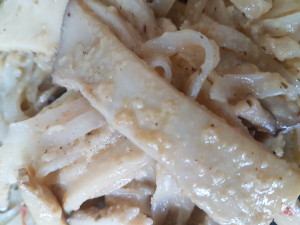 4. Once they've just started cooking (and this is the trick to keeping them looking fresh and crunchy), add in the pasta sauce and the the pasta.
5. Mix and garnish with a vegetable of another colour – looks prettier!
Enjoy!
Peace,
Daisy