Hello Wonderful People of the World,
Two years ago, I posted on one of my favourite restaurants EVA EVA in Malaysia!!! Ladies and gents, please (continue to) give it up for: Real Foods in Mont Kiara!!! It scored a very high 18/20 in our review score!!! Check out that original restaurant review post here. This is just a quick update to let everyone know that the restaurant is still alive and kicking, and just as AMAZING as ever.
They have expanded their menu to include more vegan *and* gluten-free options, such as the absolutely GORGEOUS pumpkin pancake, drizzled with pumpkin seeds and pomegranates below. So delicious and so healthy!
As I get further and further into my vegan journey, I am loving each and every discovery!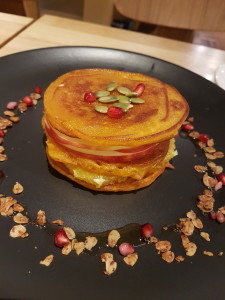 I hope you enjoy it too, and pay them a visit! And remember, it's about being mindful of your food and the earth, staying grounded (and not letting anxiety of eating out get to you!) and doing your best each day!
Peace,
Daisy