Dear Jee-Eff-Ers (GFers)!
Over the last few years, there has been a growth of healthful-mindful-vegetarian/vegan chains in Malaysia. These include: Simple Life, BMS Organics, Just Life, etc. The great thing about multiple outlet stores is that they are… well, MULTIPLE! Even one in KLIA2!!!
You can be assured of similar menu offerings, preparation process (important for GFers) and quality! BMS Organics is no different. I love their healthful options! Many of them are gluten free: the salads and the curry soups especially.
Do ask the staff just to double check, but most of the time, the staff are quite well-versed in allergy-based queries.
One of my go-to favourites is the kerabu salad (below). Their interpretation is a lighter, vegan version of the original. Not as intense, but just as delightful and energising.
They also have adjacent stores that sell gluten-free and allergy-conscious food – always a plus for Daisy! 🙂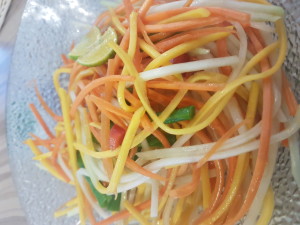 BMS Organics
Various outlets (check locations here). The one I went to was at KLIA2!
Tel: 1300 888 267 (Monday to Friday: 8.30am to 6.00pm)
Website: https://www.bmsorganics.com
Allergy friendly: ****
Taste: ****
Atmosphere: Calm, peaceful, quiet ***
Service: ****
Cost: $$ Dishes range from RM10+ to RM20+ for entrees
Peace,
Daisy