I like chocolate. Ok. I survive on chocolate is possibly more accurate. Today, I discovered a new chocolate treat, Happy Kitchen Brownie Bars. Ok, so they pack 491 calories a brownie, but they were good. And organic, vegan and gluten-free. But sadly, not cheap. At least at Jason's Food Hall in Bangsar Shopping Centre, where they are priced at $10.99. On the Happy Kitchen website, they are RRP £1.49. But I guess that's the problem with importing.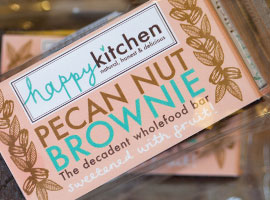 I admit to total pigginess and tried the Pecan Brownie, the Chocolate Brownie and the Orange Brownie. All good, super-chocolatey and moist. I could eat more. Except I'm supposed to be watching my diet in anticipation of the total food orgy that is a Paris trip this week.
I'm counting them as my daily serve of fruit.
Kiss kiss
Bubbles