The Mandarin Grill is a regular in my dining out list as Chef Reto and all the staff are sensitive to food allergy requirements. While it is on the pricier end of Kuala Lumpur dining out, they do a great lunch deal – $78 for 2 courses.
On booking, I specify that I am gluten free, which gets me fresh baked bread. While I don't love the bread, it is a nice gesture.
This time, I started with the Duck Confit, served with a salad, parsnip purée and a pickled cherry. The duck practically melts in your mouth and the tartness of the cherry and the crisp salad balance the richness.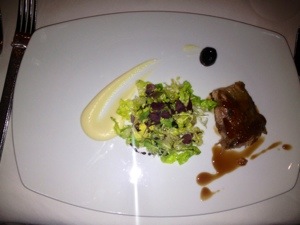 For my main, I had the aged Parmesan and new pea risotto. While the Mandarin Grill makes their own vegetable stock, if eating risotto anywhere else, don't forget to ask if the stock is made from canned, powdered or bouillon cubes as these usually contain some form of gluten in the starch.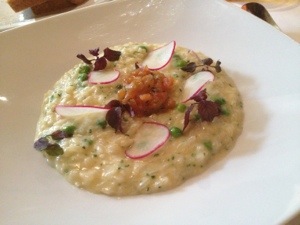 I don't usually have dessert, but Chef Reto has previously whipped up Creme Brûlée or a parfait on occasion. Their fig sorbet is also a favorite.
Kiss kiss,
Bubbles
Mandarin Grill
Mandarin Oriental Kuala Lumpur
Kuala Lumpur City Centre
Reservations 03 2380 8888
Open Daily for lunch and dinner.
Allergy friendly: *****
Taste: ****
Atmosphere: Hotel fine dining, modern elegance. ***
Service: ****
Cost: $$$$ Mains range between $68 and $250 for lobster. Take advantage of the fixed price menus both for lunch an dinner.