Hi all,
Here's another place I frequent with family often: Green Bamboo in Taman Desa. It's a perfect, dress-down but healthy spot for even daily meals.
The food is vegetarian (there's free range eggs available) and is cooked in a light, simple way. They use a lot of healthful ingredients, like ginger, lemongrass, and galangal. The chef there – Esmund – is super helpful and efficient. You'll need to talk to him to ensure that the food is made without soy sauce or oyster sauce. Their vege-meat (made on site from soy) is gluten-free! Most of the food is cooked in traditional Chinese or Malaysian style – curries, tom yum, "belacan"-based, stir-fried with simple garlic sauce, etc. Best of all, the food is very affordable. They also have an organic shop right in the restaurant, so you could pick up your groceries there too.
My favourite dishes are the tom yum soup and the assam "fish." I could go there every day!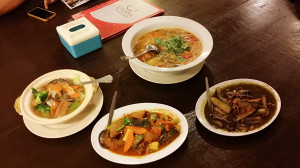 Green Bamboo
36A, Faber Plaza, Jalan Desa Bakti, Taman Desa, Off Jalan Klang Lama, 58100, Kuala Lumpur, Wilayah Persekutuan, 58100, Malaysia
Website: https://www.facebook.com/greenbambootmndesa/
Allergy friendly: *****
Taste: ****
Atmosphere: Calm, peaceful, quiet ****
Service: ****
Cost: $ Dishes range from RM10+ to RM30+ for entrees
Peace,
Daisy