Gosh, I've been eating a lot of sweeties lately, all in the name of trying it out and reviewing it for our blog! Cheeky logic, huh? 🙂
So today, I present to you: a tale of three gluten-free brownies.
Brownie #1
Came across this after my yoga class in Desa Sri Hartamas. This place is a cute, homey little café among the rows of shop houses. They have several flavours of brownies – plain, walnut, raspberry, salted caramel, etc. They also have gluten-free food (which I have yet to try). All are baked by owner and chef Sheila. The salted caramel brownie was very rich and tasty! Dense and super intense! A little too sweet for my liking though. Overall, a big thumbs up for small-time, owner-manufactured allergy-conscious food.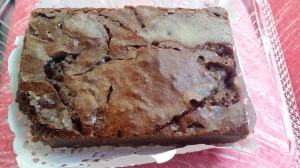 Brownie #2
I always stop by at Bisou. It is almost too strategically located in the walkway between two of my most frequented malls: BV1 and BV2! They have a variety of GF foods, and all are delicious. Their brownies have a unique consistency – light, not too sweet, and a little airy almost. Their real delight are their cookies, but the brownies are good too – they don't make you feel too guilty because they are small and light!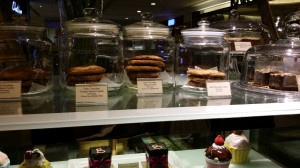 Brownie #3
I'd never seen GF stuff at OJO coffee (where I go for my Peanut Butter Latte treats) until today! They have a super delicious brownie there. It's plain (no nut or fruit adornments) but it is perfectly baked – super soft and chewy! Perfect with a cup of black coffee – it literally melts in your mouth.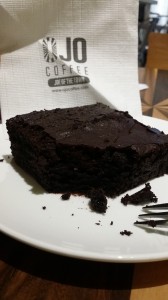 The Verdict
I'd recommend all three, but if I had to choose, the simple yet perfectly done brownie at OJO's will (literally) take the cake this time! It's all the brownie I could ever want! 🙂
Peace,
Daisy