Hello everyone!
Awhile ago, I dined with a friend at a fancy Italian restaurant in Le Meridien Hotel. Not my usual scene, but I thought I'd write about it in case you guys wanted to go there for a special occasion!
The atmosphere was lovely – an audacious Italianesque furniture overlooking a garden! – and the lunch time crowd was not overwhelming. Very erudite-looking, everyone was!
The best part about the meal was the special gluten-free bread that came with the meal. It had a lovely bread-like consistency (rare!). The chef said that the bread was baked in-house.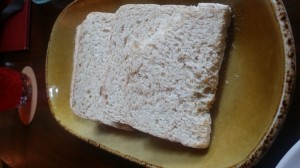 The meal itself was good – wild mushrooms and roasted veggies were simple but fresh and delicious! All this girl needs or wants! 🙂 If you can get over the price for such a simple meal, it's a fantastic place to go!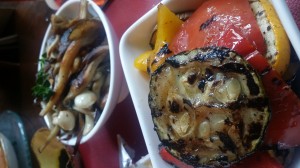 Service wasn't all that, but the chef was nice enough to come out and speak about gluten-free options. Always nice when they do that.
Favola
Le Meridien Kuala Lumpur, 2, Jalan Stesen Sentral 5, Kuala Lumpur Sentral
Website: http://www.lemeridienkualalumpur.com/favola
Allergy friendly: *****
Taste: ****
Atmosphere: Calm, peaceful, quiet ****
Service: ***
Cost: $$$$ Dishes range from RM40+ to RM100+ for entrees
Peace,
Daisy