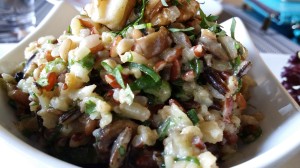 Dear Friends,
Greetings from Muscat, Oman! I've been here since September, and food-wise, it's been *really easy* to get by (and not just get by, but do well!).
Middle Eastern cuisine is largely gluten-free, except for the abundance of bread. Thankfully, Omanis mostly eat rice and fish. And they don't eat soy sauce!
There are several great restaurants to try out here. The ones I've tried are:
The best thing about this place is the atmosphere. It's outdoors, quiet, under the clear night sky (Oman, by royal decree, doesn't have skyscrapers). Food is lovely and many things on the menu are middle-eastern (read: naturally gluten-free). Hummus, labneh, salads, grilled fish, etc. all made in a gluten-free way. Make sure to remind them to keep the bread far away! 🙂
Indoor. Classic "restaurant" feel. But the food is really good. Especially the hummus and the melon and lemon drink.
3. Ubhar Bistro
Slightly higher end, but the food is super delicious. The photo above is of the wild rice salad I had there. Simple food, but a lot of care is taken to prepare it well.
I've saved the best for last. This place actually has gluten-free notation on the menu! How amazing is that! Amazing food, super cosy environment, and lots of healthy options. Truly a Daisy-endorsed cafe. Almond butter, gluten-free granola, gluten-free cake, eggs, you name it! You can have it all. A gem of a place.
All of these restaurants have English-speaking waitstaff, so ordering is really easy.
Because of the high number of foreigners in Oman, most grocery stores have gluten-free isles.
You'll have no problems being gluten-free in Oman!
Peace,
Daisy