I apologize for the hiatus! I've been travelling around Malaysia and overseas a ton and have actually been gathering much material for this blog, but alas! No time to post. I'll attempt to be more regular.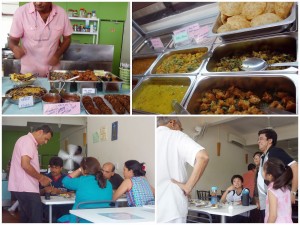 Today I'd like to introduce a small café on Lorong Kurau that I cannot say enough good things about. Ganga Café is an amazing, healthy, cozy find in the Bangsar area. Very dressed down and casual, you feel like you are returning home when you walk into the café. The owners, whom I simply refer to as Aunty and Uncle, are sweet and accommodating. They give me a hug when I walk into the door. They make their own food, and can tell you *exactly* what goes in it, so in terms of allergy-friendliness, they are #1.
Almost all their fare is gluten-free and contamination-free, save for the few dishes that use wheat (like the rotis) and hing powder. The Aunty has even gone to the extent of specially preparing dishes for me that typically use hing sans hing. She says that the pure hing powder from India does not contain wheat; however, the local variety does.
They are MSG-free, use fresh vegetables in their food, cook mostly with ghee and butter (healthier oils!). They are vegetarian, and sometimes have mock meat dishes (which you can't have if you're gluten-free).
They have an *amazing* Sunday eat-all-you-can buffet lunch for a flat rate of RM17. Call and book your seat – it can get crowded. You'll see traditional Indian food you haven't seen before – all from the regions surrounding the Ganga River.
My only issue with the place is that they have started using bottled water (ugh!). They used to have a high environmental standard in my eyes before until they caved to the self-centred KL crowd that still insists on drinking bottle water.
Here is a link to their web site.
Allergy friendly: *****
Taste: *****
Atmosphere: *** Casual and laid back. Like being at home. Sunday brunches can get crowded but in a good way.
Service: *****
Cost: $ (Sunday brunch is RM17/- nett and thalis and meal plates go for around RM10)
Peace,
Daisy