The credit for this invention goes to my gluten-adjusted husband. We participate in an organic plot-share called Vegeboy (http://www.vegeboy.com/). Every week, the delivery right to our doorstep and at an attractive price, fresh, organic veggies from their farm.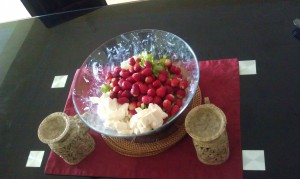 Ingredients
Lettuce

Fresh strawberries
Fresh (wet) mozzarella cheese
Olive oil
Lemon juice
Balsamic vinaigrette
We often get more lettuce than we know what to do with, so one day my husband invented this salad: fresh strawberries (from Cameron Highlands, usually organic), fresh (wet) mozzarella cheese, and lettuce. Drizzled lightly with a dressing of olive oil, lemon juice, and balsamic vinaigrette. Light and tasty. Great for a hot day.
A variation: use cut up oranges instead of strawberries. Omit the cheese and dress with an Asian-flavored homemade sauce: toasted sesame oil, rice vinegar, gluten-free soy sauce, a little wheat-free miso if you have it on hand, some chilli sauce or paste (check labels), and some raw honey.
Peace,
Daisy