If you know me, you'll know that I have barely much time to cook. After a long day's work and my usual end-of-day stop at the gym, I can *only* execute simple recipes. I have a rule: time I spend directly on dinner on weekdays has to be done within 30 minutes. Hard and fast. No but's.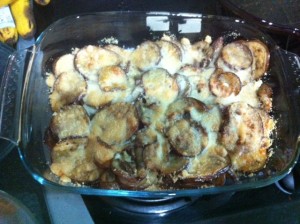 Here's one three ingredient meal that's so yum: eggplant parmesan.
Ingredients
Eggplant or brinjal (3-4 for a whole casserole dish)

Extra Virgin (Cold Pressed) Olive Oil
Gluten-free marinara (tomato pasta) sauce
Parmesan cheese
Cut up a bunch of eggplant, locally known as brinjal. You can add zucchini, mushroom or any other vegetable you have on hand if you wish. Put in baking dish, e.g. a pyrex casserole one. Pour about 5 tablespoons of olive oil and a bottle of gluten-free pasta sauce atop. Check labels for gluten-free-ness of pasta sauces. Muir Glen makes a great organic, gluten-free kind. Layer with a bunch of parmesan cheese. Bake in oven for approximately 20 minutes or to your liking.
Done and done. And delicious. 🙂
Peace,
Daisy