Hi folks,
Here's a restaurant that I love to go to – fuss-free (they know what is gluten!), quick, and healthy! While they're not overloaded with gluten-free items on the menu, there are some good salads and omelettes, and my favorite – the quinoa burger! If you're craving for gluten-free bread, look no further. It's not fantastic, but it'll satisfy your craving. Their food is in generous portions, so worth the money!
Oh, and if you're lucky, they'll have some gluten-free dessert too. I tried their Nutella cake once – lovely!!!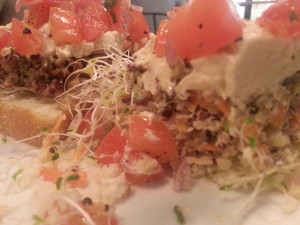 Here is a link to Urbean's website.

Allergy friendly: ****

Taste: ****
Atmosphere: **** Nice cafe ambiance
Service: ****
Cost: $$ – A meal about RM20 without a drink.
Peace,
Daisy