Hello Gees!
Tired of the run-of-the-mill Indian food you often resort to as a gluten-free person in Malaysia? Tired of the thosais and the thalis?
May I introduce you to…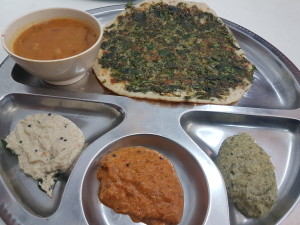 It's a rice pancake that's kind of like thosai but not as tart. It's also tastier, as it has spicy toppings. The one we had at Mr. Naan and Mrs. Idli in KL Sentral had coriander and chilli. Now if you're a spice glutton like me, you're gonna love it! It's also serve with a variety of chutneys and sauces. Tasty!!! Try one out. Most Indian shops that serve thosai will serve it.
Peace,
Daisy the Spice Glutton