Hello my lovely, healthy blog readers!
I'm sharing with you my "Favorite Dish of the Moment." A full-flavoured, satisfying Dhal Curry! I often crave this because it reminds me of Indian home-cooking, but I've adapted it so that it cuts out some of the complicated labour that is typical of Indian cooking, while retaining all the essential comforting tastes! It's also super fast – no longer than 30 minutes, with only 15 minutes or so of "active cooking."
Gluten alert: This dish is often made with hing powder (Tamil: perungayyam) in Indian restaurants, so it is a no-no for gluten-free people. Learn more about hing powder and gluten in this article.
Lentils are an amazing source of protein, sans all the yucky stuff that is often in processed meat. There are many different types of lentils: red, yellow, green, etc. Split red lentils and yellow lentils, typically called "dhal," are used for Indian cooking, but really you can use any lentil for this recipe! I like the red ones because they are faster, and look "more cheerful" in the dish than the brown ones…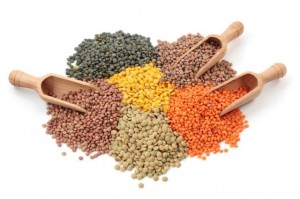 This recipe is super easy, delicious, nutritious, and filling. I make it spicy, so tone down the curry powder and chilli powder if you're not into having a mouth on fire! It goes very well with rice, but sometimes, I just water it down and drink it as soup!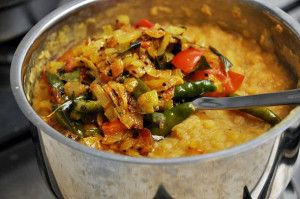 Ingredients:
1 cup of any lentil (you can use dhal – the red or yellow split ones – to be traditional)
3 large tomatoes
1 cup tomato puree (or half a bottle of 250g tomato sauce)
3 cloves garlic
Vegetables! You can use any, but I like this dish with mushrooms, kale, spinach, potatoes (boiled), long beans, cauliflower, broccoli, and carrots
1/4 large white onion
A few large pieces of ginger
Mustard seed (if you have it)
Salt (to taste, try celtic sea salt–the best kind!)
2 tbs coconut oil (or any oil!)
Spice Mix (you can substitute all of the below with 1 tablespoon (or more) of Baba's Meat/Fish Powder):
1/2 tsp fennel seed
1/2 tsp tumeric powder
1 tbs chilli powder (yes, I like it spicy, so tone down if you don't!)
2 tbs curry powder (ditto)
A few pieces of clove
Method:
Soak dhal/lentils overnight (or for at least 2 hours) to make it soft and easier to boil.
Put the dhal/lentils in a medium pot (use a glass or iron or steel cooking pot!) with at least 2 cups of water (3 or more if you like it watery, or want to make it into a soup).
Boil the dhal with a dash of salt.
When it has reached it's boiling point, turn heat down and continue cooking for another 10 minutes or so, until dhal is tender.
When done, it should be very soft, almost melty. Retain all the water!
In another pan, heat oil, and stir fry the onions, garlic, ginger, and mustard seed (if you have it).
Add your vegetables. Now, here's when you want to be a little strategic and/or intuitive. Put veggies in based on how quickly they cook. Example: First the mushrooms and cauliflower… then carrots and beans… then kale or broccoli. I always like the green veggies to be quite "sprightly" and crunchy, so I often throw them in last, maybe even after I turn down the fire.
If you're using potatoes, make sure to boil them ahead of time (and cut them up).
Almost immediately after (or even simultaneously), add the tomato, tomato puree, and all the spices.
Add the boiled dal into this mixture. Add water and salt as necessary.
Ta-daa! 🙂
This is one of those dishes that I like to call "Best Effort Dishes." It can be done on a best-effort basis (i.e. sometimes without all the ingredients) and it still tastes super good! It's also a good way to use up all your left-over veggies!
To me, the key to good vegetable cooking is knowing in what order to cook your veggies. The last thing you want is overcooked, grey-green broccoli! It's not an exact science, so tap into your intuition – your GUT! – as you cook. You'll know! Keep your dishes… and your lives… colourful! Till next time…
Peace,
Daisy
* Photo courtesy of Chatelain.com
** Photo courtesy of Fussfreecooking.com