After you've managed to fight temptation and despair during the cookie-sharing at work, you deserve to reward yourself. Here's a quick GF product snack do and don't for this week:
DO: Choculence by Leda Food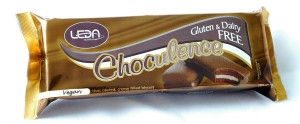 This chocolate wafer snack is as healthy as these snacks come (non-GMO, few chemical ingredients), eco-friendly (vegan) and it's probably the tastiest chocolate snack I've had. Even non-GF husband loves (and often finishes) it–it's very precious in our house when it's available! Tastes almost exactly like Tam Tam's original recipe, without the cloying sweetness. It's a hard find in grocery stores and runs out often. I've seen it in Cold Storage (in KL areas only), Village Grocer (in Bangsar), and Mercato (Pavilion). Also available in a mint variation. Cost is reasonable at approximately RM13.00 for a row of delicious cookies.
DON'T: Frollini by Schär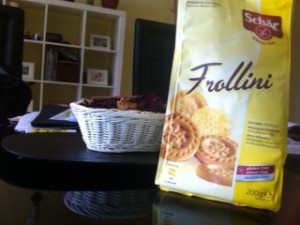 I was super excited to see this new brand stocked in the GF section at Village Grocer in Bangsar. I generally like German brands and products (e.g. the GF versions of Frankonia's Hanuta and Ritter Sport's alpine milk chocolate are so good!). However, this one proved a disappointment. These cookies fulfill the GF stereotype of tasting like cardboard. Texture-wise they are firm and consistent. And a plus — they are not sweet and contain only 32 calories per cookie. But given that: a) we buy cookies as treats, and b) the cost is super hight at RM17.00++ per bag, I would give these a skip.
As an added bonus, enjoy this pretty funny yet sad and accurate representation of The Celiac's Struggles.
Peace,
Daisy