This place is one of a kind in Kuala Lumpur at the moment, but is probably at the helm of a new wave of allergy conscious restaurants. I am surprised it took me this long before finding it.
The only place in town that actually has specifically labelled gluten-free items on the menu. Food caters to a health conscious crowd who dig the dress down, New York health deli style set up. The concept is that they provide organic, raw food that will nourish your body (and city-weathered soul). Wait staff were not very well versed in the menu offerings, even though the menu itself was clear.
The food itself tastes healthy and, well, alive. My husband and I shared the beef stew. Grass fed beef tasted great–the gravy was herby but fresh–but the portion was rather skimpy. We thought the quinoa salad was great but the mayo dressing was a mismatch. The deliberate nuttiness of the salad was a nice touch.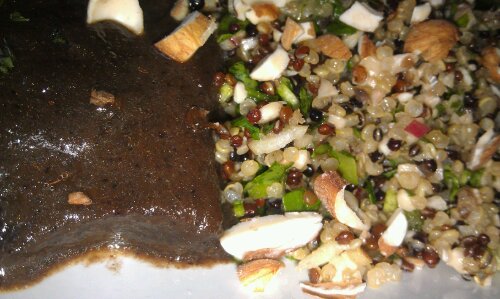 My favorite was probably the "Living Enchilada," a piling of lovely guacamole and other veggies on a frozen, sprouted corn-based tortilla. It was light but tasty, but a little spicy edge.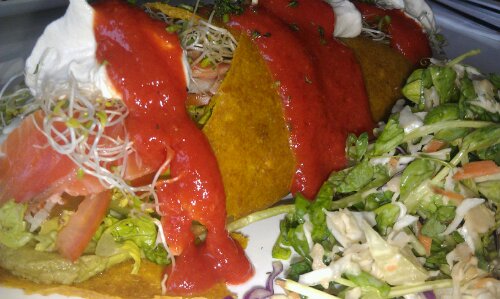 You'll still have to remind the staff to be careful to prepare your meal in uncontaminated areas–they also prepare sandwiches using regular bread and the staff aren't always too focused on preventing cross-contamination.
Living Food Bistro and Cafe, Menara Tan and Tan
Website: http://www.livingfoodmy.com/
Allergy friendly: ****
Taste: ****
Atmosphere: Earthy, dress down ***
Service: ***
Cost: $$ Dishes range from RM15 to RM30
Peace,
Daisy