Once again, I am on the prowl for restaurants that do not distinguish between celiacs and non-celiacs, thereby rendering the cross contamination problem moot. Shucked, an oyster bar inside Ben's Independent Grocer at Publika is one such place.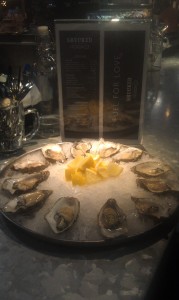 If fresh oysters au naturel is your thing, this place is your dream. Ever since returning from the US, I have been searching high and low for places that raw bars well, especially when it comes to oysters. This means that they shuck with a good amount of sea water and sans smothering in all sorts of sauces, thereby masking the brilliant taste of these bivalve molluscs.
Shucked does a decent job. Most of their oysters are sourced from the UK and Europe (for those of you who think of these two places are separate). They also have a lobsters, fish, and other sea creatures—all cooked very simply à la gluten-free. Service is a fine so long as the place is not crowded. Ambiance could be better given that it is a bar—it is best for quick meals. Oh, and it is cold. Bring a sweater.
Peace,
Daisy
Allergy friendly: *****
Taste: ****
Atmosphere: *** Casual. Inside a grocery store. Very cold.
Service: *** Can be slow
Cost: $$$ Approximately RM100-150 per person, unless you get the lobster, which is RM250 per person
Shucked Oyster & Seafood Bar
Ben's Independent Grocery
Publika
Jalan Dutamas 1,
Solaris Dutamas
50480 Kuala Lumpur
Tel: 603 6209 1700
Call to find out opening hours. Can vary.