I'll start with the tried-and-true, easy-peasy stuff first. This is my go-to dish over and over.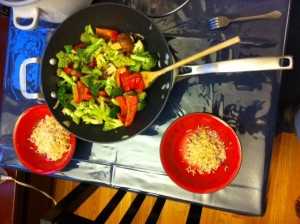 Ingredients
Brown rice

Roasted sesame oil
A variety of veggies–whatever you have on hand! Carrots, mushrooms, broccoli, kai lan, kangkung (morning glory), bok choy.
Brown rice in the rice cooker. A bunch of colourful veggies. Heat up some roasted sesame oil in the wok (we usually use a stainless steel wok unlike the photo which pictures a non-stick skillet—the wok is a fantastic cooking instrument!). Throw veggies in by likelihood to cook fast (I throw leafy greens in at the end after I turn off the stove). Lightly cook.  Turn off stove. Throw in a little gluten-free soy sauce. Ta-dahhhh!!!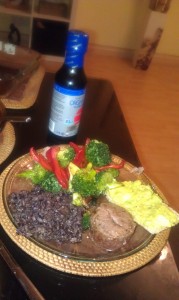 San J makes an excellent organic, low sodium, gluten-free soy sauce, available on www.iherb.com (use discount code "LEQ993 for $10 off!). They deliver to Malaysia. There's also Amazon.com. Second photo shows recipe variation with the soy sauce. Sometimes I also mix the rice into the pot, as shown below! One pot wonder! 🙂
Peace,
Daisy