Hello Friends!
Even though I've been in Hyderabad about 2.5 months now, I still don't know the good gluten-free places to eat! I've found a couple, which I will post in the days to come. However, for now, I was lucky enough to be invited to a home-cooked meal, where I learned a lot about what goes into the local food!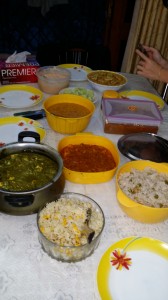 Our host laid out a sumptuous, traditionally-prepared meal. A lot of the food is rice-based (e.g. rice with jeera, rice with corn, pulao) and tomato-and-chili-paste-based (e.g. prawn curry, chicken curry, stuffed potato curry).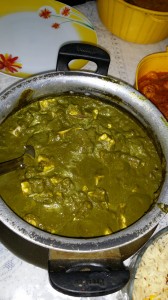 To me, the palak paneer has been an old steady favourite. I have not encountered a time when it was made with gluten. The only danger, of course, is cross-contamination, but usually the risk is minimal.
This stuffed potato curry was amazing! It's essentially halved potatoes that have been hollowed out and stuffed with curd and paneer (and some spinach and seasoning).
All in all, a meal worth remembering!
Peace,
Daisy