Dear Friends,
Here is the first of the two restaurants I will review in Hyderabad. N Grill is a very popular spot in Hyderabad, apparently! It was founded by two actors whose names I can't remember at the moment, but I am assured by the locals that they are *really, really* popular!
The ambience is very posh and the décor is classy. The food is eclectic – you'll find Indian, Western, and a mix of the two. The staff are also well-versed in food allergy accommodation, so it was easy to order here.
I had a delicious but simple meal – just the way I like my food – with some raw and some cooked veggies.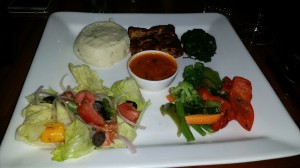 The only downside is that the place is a little pricey. But the food is great and there is wonderful local wine! Definitely worth a stop in!
N Grill
Website: https://www.zomato.com/hyderabad/n-grill-jubilee-hills
Allergy-friendly: ****
Taste: ****
Atmosphere: Fancy pants ****
Service: *****
Cost: $$$ Dishes range from Rs 700 – Rs 1000 for entrees
Peace,
Daisy