Hello Allergicky Friends,
Yesterday I discovered yet another dress-down but allergy aware cafe in Bangsar Village mall. It's called "Nutmeg" and it's tucked away on the second level of Village II. The staff, mostly foreign, were not as aware of allergies as waitstaff are at more upscale places, but they did their best to accommodate.
It's a brunchy place with Western food like all-day breakfasts and salads. While I didn't have much that was savoury (I had the hand-cut potato cubes – gluten-free and fairly unremarkable), I did have a fantastic dessert: "the hazelnut meringue cake." It's gorgeous. Light, fluffy, and so tasty! It's very rich though, and my two friends and I reached an "elegant sufficiency" after a few bites.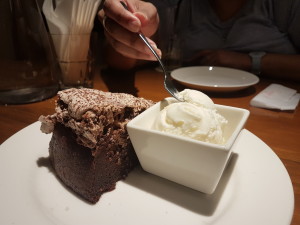 They had three gluten-free items on offer that day: the hazelnut meringue, the blueberry cheesecake and an orange cake (which the waiter was strongly touting!).
Go check it out!
Peace,
Daisy
Nutmeg
Bangsar Village II (Lot UGF-28A), 2 Jalan Telawi 1
59100 Bangsar, Kuala Lumpur
Malaysia 
Website: nutmegkl.com
Allergy friendly: ***
Taste: ****
Atmosphere: Calm, peaceful, quiet ***
Service: ****
Cost: $$ Dishes range from RM20+ to RM40+ for entrees