I've been to Laos twice now and have not yet had a reaction to gluten in the food I ate there. There are very few fancy restaurants where people speak English and can understand words like "allergy." However, most food is obtained from stalls where you can *actually watch* them do what they do, and ask "what's that?" till you are sure your food is safe.
One super delicious dish that was served everyone was Mekong fish. It is basically coated in rock salt (to preserve freshness) and stuffed with herbs before being grilled on hot charcoal. Totally safe when you can see how it was done. Just make sure they don't use the same grill for marinated meats.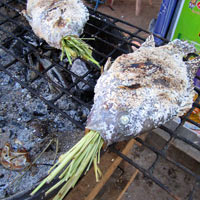 Also, the papaya salads were safe 99% of the time. Just check that they don't use soy sauce in the marinade. It's usually just rice vinegar (ask to see bottle) and lime juice, and chilli powder!
Finally, the mango and sticky rice were my go-to comfort food when travelling. The only thing to watch for with this dish is that they use *fresh* coconut milk (not powdered).
Tons of local salads and fruit abound, so there will always be raw, vegan, whole food options in markets and at stalls.
The soup dishes are good too, but you have to watch for MSG and the use of soy sauce and other non-gf preservatives in the soup base.
Peace,
Daisy