Hello lovely people!
Greetings from Germany! If you're in one of Europe's more hipster/alternative/urbane cities, such as Berlin or Munich, you're not going to have a problem finding gluten-free options!
All you have to say is:
"Hast du glutenfreies Essen?"
Do you have gluten-free food? 
"Ohne gluten, bitte."
Without gluten, please.  
"Gluten (pronounce it: gloo-tain) ist weissen, gerste, bier, soya sauce, etc."
"Gluten is wheat, barley, beer, soya sauce…"
Most servers also speak sehr gut (very good) English and are quite educated about serious gluten allergies.
I found myself in Konstanz, Germany (by the border of Switzerland) for a week, and had to scout more closely for gluten-free options. Konstanz is, by German standards, a smaller city, with medieval streets and lots of shopping.
They had a lovely organic shop called Eugens  (pronounced: Oi-gens) in one of the main downtown streets. Eugens has lovely options for conscious eaters.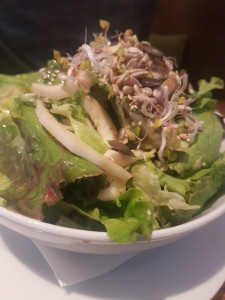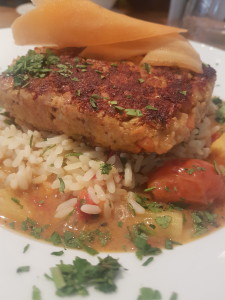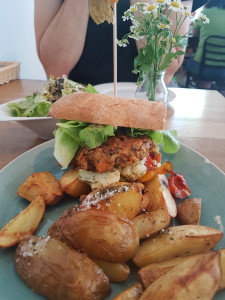 They also have dairy alternatives: soy and almond. They make a tasty hot chocolate (heisse schokolade). Highly recommended for the quick service, attention to allergies, and delicious offerings. Prices are normal by European standards: about 10-20 Euro per entree.
Eugens, Konstanz, Germany (17/20)  
Münzgasse 1, 78462 Konstanz
www.eugens.bio/home.html
Allergy friendly: *****
Taste: ****
Atmosphere: Calm, peaceful, quiet ****
Service: ****
Cost: $$ Dishes range from RM20+ to RM40+ for entrees
Peace,
Daisy