Hello Folks!
Happy New Year! Welcome to our first post of 2019! We began this blog on 13th February 2013, so we're almost 6 years old!
We're still in our series about cooking inventions, and healthful, vegan, gluten-free ones at that!
Here in Switzerland, I've noticed that varied, well-arranged, properly (read: generously!) spiced oven bakes get a standing ovation at the dinner table. It's wintertime, and oven-based cooking spread a delicious, warm smell through-out the house.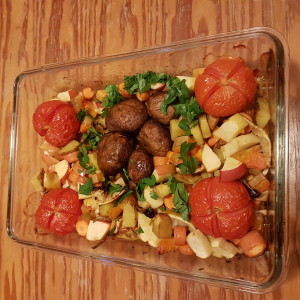 This particular recipe only requires you to buy colourful veggies and arrange them nicely in your baking pan or sheet.
Suggestions include: tomatoes (slit slightly open), potatoes or sweet potatoes (you may want to lightly boil these first, or cut them really small), mushrooms (add a lovely nutty texture when baked), carrots, parsnips, brussel sprouts, asparagus, etc.
I also like to use a bake-able fruit, such as an orange, pear or apple. It gives the dish a nice, sweet occasional munch!
Little trick: cut the veggies according to the size in which they will cook evenly. So for example, you'll want to cut parsnips a little smaller than carrots. If you don't do this, you'll have to cook incrementally, i.e. put in the longest-cooking veggies first, followed by the second-longest-cooking veggies, and so on. This can be a waste of time!
Dressing Recipe:
An onion, sliced
2-3 gloves of garlic, sliced
3-4 tablespoons of olive oil
2 teaspoons of salt (you can also use soy sauce in lieu)
Pepper to taste
Once you have arranged your baking tray with all your delicious veggies, scatter the ingredients above onto your veggies. Toss around, so the coating of the "dressing" is even.
Bake for approximately 15-20 minutes at 180 degrees or so. If you see them browning, take 'em out!
Once they are out of the oven, splash a little balsamic vinegar or apple cider vinegar on your food. You can also roughly chop up some cilantro (or any green herb or veggie) and sprinkle on top. Another idea: dust the top with nutritional yeast (make sure it's of the gluten-free variety!).
Hopefully this cooking invention series has been a little inspirational to you all in spicing up (or spicing down) your at-home cooking… I wish you creativity and joy as you express yourself in the artwork that is making food!
Peace,
Daisy