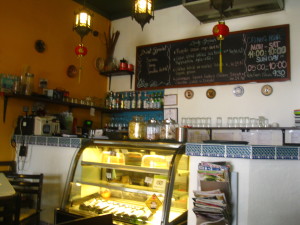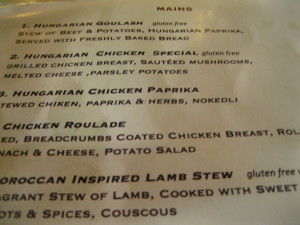 Hi all!
So here's that post I promised you on the best chocolate cake ever! Chilli Vanilla was a wonderful find on one the main streets of Kota Kinabalu — Jalan Tun Razak. Run by a Hungarian woman, the little cafe serves Hungarian and Middle Eastern (and some Western dishes). We were astonished to see that items on the menu were actually marked as "gluten-free." Only one other place I have seen this in Malaysia at a regular restaurant (not health food cafe)–a hotel in Melaka on the Melaka river walk.
The food is authentic and has a home-cooked feel. The goulash–the house specialty–was delicious. The salads were simple and nutritious, and the sweet potato fries made my heart jump! I have not eaten fries in so long. These were safe and delicious!
And the icing on the cake–the best chocolate cake you'll ever have! Wonderfully moist with just the right amount of sweetness. Served warm. Fluffy yet subtly rich. We went for seconds (and we never do that). (P.S: Skip the ice-cream scoop–I checked the container and it is unclear whether it is gluten-free.)
Here is a link to Chilli Vanilla's Facebook page.
Allergy friendly: *****
Taste: *****
Atmosphere: *** Casual and laid back. Relaxed.
Service: ****
Cost: $$ – Mains range between RM15-30
Peace,
Daisy