Troika Sky Dining is slick and modern, incorporating Canteloupe (French influenced), Strato (Italian) and Claret (wine and cocktail bar). Overlooking the KLCC park, with floor to ceiling glass, the views are amazing. Having chatted to the chef briefly, one night over many martinis, I was looking forward to trying out their food. We went as a large party and had decided on a degustation. The chef had to cater for ten, including one vegetarian and me, the celiac.
When we sat down at the table, it was clear that the staff were well prepped. A waiter spoke to me right away, explaining that they understood that I was strictly gluten free and asking if there were any other special considerations to take in to account. After reemphasizing the dangers of cross-contamination, sauces made with gluten-containing ingredients and deciding on the number of courses, it was pretty much a case of enjoying the food, wine and the company.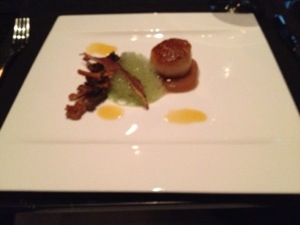 I particularly enjoyed the seared scallops and a foie gras dish. I noticed that where I had a dish with similar elements to the non-gluten free, that it arrived as a different course, so the chef was definitely on board with watching for cross-contamination.
Dinner was delicious and while pricey, it is definitely somewhere I would eat at again. Call at least the day before to let the chefs know that you need gluten-free. They said they would be happy to arrange GF pasta in the Italian restaurant as well.
Canteloupe
Level 23A, Tower B, The Troika
19 Persiaran KLCC
50450 Kuala Lumpur
Malaysia
+6 03 2162 0886
Open Daily for lunch and dinner.
Allergy friendly: *****
Taste: ****
Atmosphere: Fine dining, modern architecture and a view. ****
Service: ****
Cost: $$$$ Mains range between $68 and $250