I love the set up here. It's a breath of fresh air, literally, in a very mall-like mall. Green and airy. Local food and Western food, and some fusion dishes. Health conscious menu, high quality ingredients, and excellent presentation.
However, staff are not very informed on allergies at all and chef declined to come out. After much questioning of waitstaff and their going back and forth between me and the kitchen, we decided on a nasi lemak–the likeliest to be gluten-free.
They used all fresh ingredients and said that they did not cross contaminate with other gluten-containing ingredients. The recipe itself is ingenious. A green rice (basil? pandan?), several nuanced sambals, crispy fried fresh (and large!) anchovies, and a delicious rendang. I felt fine afterwards. However, they really need to train their staff to answer allergy-related questions knowledgeably.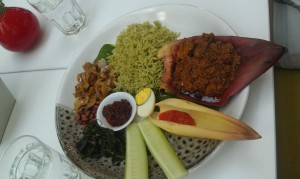 Allergy friendly: ** Waitstaff were only reasonably informed. Chef refused to come out.
Taste: **** Delicious. Presentation par excellence.
Cost: $$ Around $20 – 30 per person for a main course.
Atmosphere: **** Cozy, airy, green, no stifling airconditioning.
Service: *** Waitstaff who try their best and are friendly.
Peace,
Daisy