Hi folks!
While I am trying to reduce the amount of grains I eat at home, it certainly is hard to fill up on just veggies, fruits, nuts, and eggs! Therefore, I thought I'd share my home stash of grains in the form of a quiz: can you identify these grains?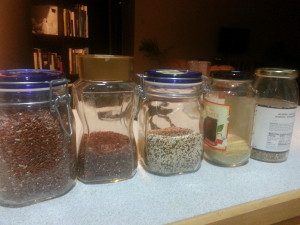 A. Sarawak red rice
B. Red quinoa
C. Mixed quinoa
D. Millet
E. Buckwheat
The best kind of rice to get is organic wild rice. Sadly, I have not seen this available here in Malaysia. Also on a sad note, while quinoa is an excellent staple, it is no longer an ethical grain thanks to irresponsible global trading. If you want to buy quinoa, please get the "fair trade" kind as we don't want to deprive poor South Americans of their nutritious staple.
BONUS QUESTION: Which grains are not gluten free but often seen in the gluten-free aisles because they are marketed as "health foods"?
Cous cous
Kamut
Spelt
Semolina
Atta
Bulgur
All the above are not okay!
Peace,
Daisy