Dearest Friends,
I've been asked quite a few times about how I do composting in my apartment, so I thought I'd put together a simple one-pager to share with you what I've done and learned so far in my urban composting journey.
Apartment composting is tricky: you don't have the soil to put the compost into, nor do you have easy access to leaves and other dry organic matter that is needed for the composting process.
Nonetheless, success is possible! It may take little more time, but it certainly can be done!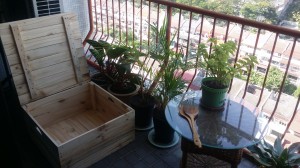 Click here to download "CatC_Daisy's Guide to Apartment Composting_Feb 2017. "
Enjoy, and feel free to share. The more of us composting, the better!
Peace,
Daisy