Food labelling is important to anyone suffering from food intolerances or allergies. Standards vary between countries and sometimes allergen free certifications aren't always accurate. Case in point,the Malaysian supermarket.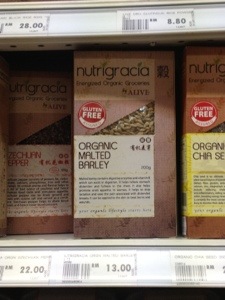 Barley isn't Gluten Free!
Another recent discovery of the not gluten free but labelled as gluten free is the allegedly gluten free bread at The Carpenter's Daughter Artisan Bakery. While the flour they use is gluten free, it's prepared and baked in the same ovens as normal bread.
So as always, my advice is to ask questions and read ingredient labels!
Kiss kiss
Bubbles