I met Chef Mickael Cornutrait, after a few bottles of chardonnay at the bar of La Vie en Rose. Thrilled to be told that "sans gluten, pas de probleme," I decided to road-test his claim. I've since dined at La Vie en Rose three times and brunched once. The chef followed up each reservation with a phone call on menu options to ensure gluten free prep. Above the traffic of Kuala Lumpur and surrounded by trees, with a view across to the KL Tower and the Bukit Nanas Forest Reserve, service is attentive and friendly, and by your second visit, the staff greets you like an old friend.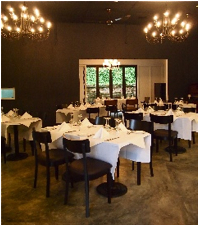 At dinner, I loved the truffled mashed potatoes that accompany most main dishes, the sans gluten version of escargot in a creamy, garlic sauce (for non-celiacs, it is served in puff pastry), the perfectly rosee duck breast and the foie gras with caramelised apples. Brunch was less exciting and also a little depressing, when you can't enjoy dark-chocolate stuffed pastries and fresh bread. My truffle-scrambled eggs were pleasant but I prefer to stick to lunch or dinner.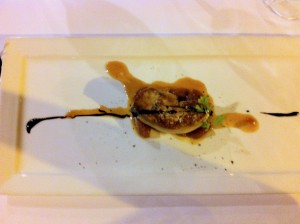 For non-celiacs, they do very buttery croissants, a more-ish profiterole dessert and traditional, french bistro fare with some imaginative twists. Despite the seafood and meat-heavy menu, the chef and staff were cheerfully willing to assist and offer options for vegetarians and other food allergies.
Now, if they would just put pommes frites on the menu.
La Vie En Rose
39 Jalan Raja Chulan
Kuala Lumpur
Reservations: +603 2078 3883
Lunch and dinner from Tuesday to Sunday Brunch from 9.30am on the weekend Closed: Monday
Allergy friendly: ****
Taste: ****
Cost: Around 150 for three courses without wine
Atmosphere: **** Relaxed and romantic
Service: *** It depended on which server you had