Hello Courageous Gluten-Freedom Fighters!
Since coming to Europe, I've come to appreciate traditional European foods like sauer kraut (picked cabbage), potatoes, and… well, the rest of it doesn't really apply to vegans and gluten-free people. 🙂 But let's stick with the cabbage for now…
Cabbage, especially fermented red cabbage, is really healthful! In German, it's called rot kohl and is ubiquitous in grocery stores! It's one of the highest fiber foods you can eat while being very low in calories. In addition, red cabbage has a ton of post-biotics, which are amazing for gut health. It's also high in Vitamin C and anti-oxidants! It's easy to cook, keeps well, and has a mild flavour, so it kinda goes with everything! You can add it to just about any dish for some extra colour and nutrition!
So I thought I'd pop in today to share a beautiful-on-the-outside and beautiful-on-the-prep-side salad recipe that utilises red cabbage I've loved making for years!
Quick side note: Store-bought fermented red cabbage can be very high in sugar, so it's better to make your own! I'm going to skip full fermentation and go with a semi-fermented recipe today.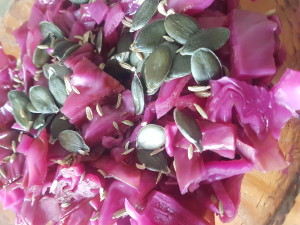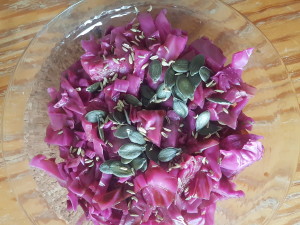 Ingredients
Half a medium-sized head of red cabbage, cut finely. The thicker insides can be cooked or tossed, depending on your tastes. I eat them…
2 tablespoons of organic apple cider vinegar (and some additional to boil)
2 tablespoons of maple syrup (organic, Grade C)
2 teaspoons of salt
2 pinches of organic pumpkin seeds (or any seed, but pumpkin seeds give a nice colour contrast)
1 pinch of cumin seeds (optional)
1 tablespoon of hemp oil, to drizzle on top
Method
1. Put the cut red cabbage in a small pot together with a splash of apple cider vinegar and boil until the cabbage is somewhat soft. You can save the water for soups – all healthful stuff in there!
2. Drain the cabbage, and add the 2 tablespoons of apple cider vinegar, maple syrup and salt. Mix! You'll see a glorious colour!
3. Add the pumpkin seeds and the cumin.
4. Voila! Done! Drizzle with uber-healthful organic hemp oil.
Peace,
Daisy