Kuala Lumpur has recently been sprouting many small-time entrepreneur-driven, home-based food delivery services. However, most of them tend to be meat-based and do not cater to the needs of the allergy-conscious.
The one exception that I have found is Woods Macrobiotics. They are completely vegan and cater to specific allergy needs, such as gluten-free meals. Best of all, they are eco-conscious: they do not deliver in disposable Tupperware but require you reuse your containers! When you get your food delivery, you're supposed to leave them with a new container for the next day! Fantastic, waste-reducing system.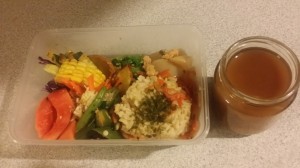 Do check out their website and order from them. Daisy highly recommends them! They are about RM23 for a gluten-free meal (including delivery). A tad on the pricey side, but totally worth it for healthful and allergy-safe food.
Peace,
Daisy