What is certainly a noticeable trend is that health-focused stores in Malaysia are taking the lead on developing an allergy-minded culture here. I was pleasantly surprised to see the following pamphlet at the counter of Boost Juice, a fruit juice chain that originated from the UK, in Midvalley Mall. The pamphlet provided information on nutrition and allergens in Boost's main offerings. Thankfully for us gluten-phobes, most of their menu is gluten-free, with the exception of some of their chocolate- and granola-based smoothies and their wheatgrass shooter.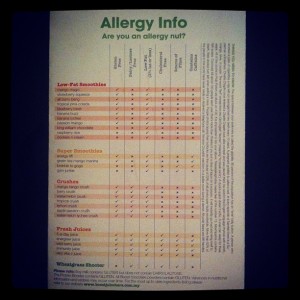 Here's a list of their offerings with gluten:
King William Chocolate Low Fat Smoothie
Raspberry Ripe Low Fat Smoothie
Cookies 'n Creame Low Fat Smoothie
Brekkie to Gogo Super Smoothie
Gym Junkie Super Smoothie
Wheatgrass Shooter
Yay that for once, the "yes" list is longer than the "no-no's!" Boost Juice is available at virtually every large mall in Malaysia. Don't forget to ask them to wash out the blender before making yours.
Peace,
Daisy